Painting Questions
We are always available to help.
Call Us!
Call us today:  214-824-4574
Decorating Ideas?
We have the color knowledge!
See our design professionals
Call us to discuss your project  214-399-1677
Partnership Info
Are you a contractor or decorator?
We want to work with you
We have great deals for our partners.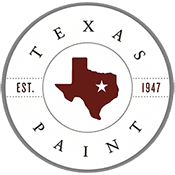 We'd love To Meet You In Person Or Via The Web!
Texas Paint provides quality paint, paint supplies, and equipment for residential jobs, commercial jobs and Interior Designers. However, we can assist you with much more than just paint. We are also a decorating center that carries a large selection of window treatments and wall coverings. From simple updating of interior windows to a complete makeover, we have the knowledge and staff to give your home a complete new look.
Phone: (214) 824-4574
Hours: Monday-Friday 7am-6pm, Saturday 8am-5pm
Employment: Download the employment application below and bring a printed copy to your nearest Texas Paint and Wallpaper location or email a scanned copy to josephelong1978@gmail.com.