Coming Soon: Color of the Year 2019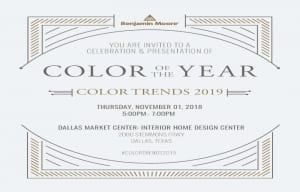 Curious to find out what the color of  the year 2019 will be? Then you don't want to miss Benjamin Moore's celebration and presentation of 2019 color trends on November 1 at the Dallas Market Center: Interior Home Design Center on 2000 Stemmons Frwy in Dallas. The party kicks off at 5 p.m. Please Register: https://signin.aecdaily.com/register/PNL8284
Previous Colors Of The Year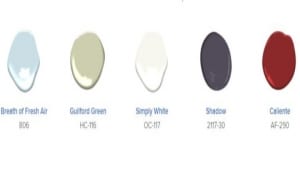 Benjamin Moore's Color of the Year and Color Trends 2019 will premiere October 11, 2018. Until then, we invite you to take a look back at the enduring nature of our curated Color Trends palettes. The Benjamin Moore Color of the Year is based on a wide range of influences and extensive research. Check out several recent selections. Among the winners in recent years you will find Breath Of Fresh Air, Guilford Green, Simply White, Shadow and Caliente.
Ask The Experts
As you probably know, interior design is the art and science of understanding people's behavior to create functional spaces within a building. At Texas Paint, you will be able to choose from a wide variety of products to help you complete your design. It is not always easy to put together paint color with furniture and wall-coverings and draperies. Let one of Texas Paint's interior design experts help you create the perfectly designed space. Whatever you decide to do, Texas Paint's interior decorators and designers will be with you every step of the way. For more information visit: https://texaspaint.com/consultation/
Texas Paint has been in business since 1947 and is an independent dealer of Benjamin Moore Paints and Finishes. Our trained specialists are available to assist you in selecting paint and supplies for your home or business.
We have 5 locations across the area in North Dallas, Downtown Dallas, Plano, Park Cities and Grapevine Mills for your convenience, to serve you.