Get Ready For The Carnival Season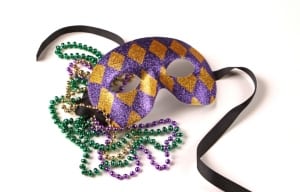 The Carnival season is about to kick into high gear!  It officially started on January 6th and will last through Mardi Gras Day on February 25th.  There will be a lot of events happening in the Fort Worth – Dallas area this Carnival season, especially towards the end of February. You will see more and more Mardi Gras colors: purple, gold and green. Did you know that all three Carnival Colors colors can be incorporated into your home design?
Be Vibrant
Paint one or more rooms in your home with one of the Mardi Gras colors to keep a little bit of  the Carnival season's spirit in your house all year around. The colors are fairly bright, but remember you do not have to paint your entire room. Consider an accent wall to open up your space and give your room a modern feel. The colors of the season are purple, gold and green and they can really add dimension to any room.
Be Calm
If you do not like the vibrant purple, green and gold jewel tones for your home, consider a lighter hue. Lighter paint colors are perfect for a smaller room or for  a room that does not have enough light. A lighter paint color can even help make a small room seem bigger.
Benjamin Moore has over 3500 colors to choose from, and Texas Paint can even create a custom color for your home. Whether you want the perfect Benjamin Moore Mardi Gras Purple or a customized Gold, Texas Paint can deliver the perfect color match.  Once you are done painting, it's time to enjoy some fun events this Carnival season!
Carnival Season Parades & Parties
Below find a list of some events you don't want to miss this Carnival season:
Saturday, February 22
Sunday, February 23
Tuesday, February 25  Mardi Gras
All dates and times of Carnival season events are subject to change.
Get your Carnival season colors at Texas Paint. Texas Paint has been in business since 1947 and is an independent dealer of Benjamin Moore Paints and Finishes. Our trained specialists are available to assist you in selecting paint and supplies for your home or business. We also offer FREE 2 hour Pro Delivery Service. Find out more: https://texaspaint.com/pro-delivery/
We have 8 locations across the area in North Dallas, Downtown Dallas, Plano, Park Cities, Grapevine Mills, Fort Worth, Richland Hills and Arlington for your convenience.