THE CONVENIENCE OF MOTORIZED SHADES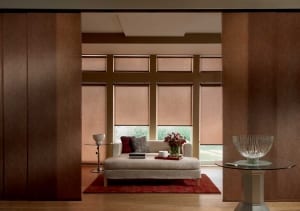 Technological progress as well as the ever increasing demand for smart, connected living have all contributed to the accelerated enthusiasm for motorized blinds. The benefits are numerous: including the ability to control your shades or blinds with the touch of a button; there's no longer the need for pulls and cords; the ability to transform your living room into a media room; as well as the cost savings on your energy bill are feeding the frenzy.
You'll want to know the cost of installing motorized shades. However, the answer varies greatly depending on a variety of factors, including the type of motor you select, the materials selected to manufacture your custom shades, and the size and number of windows you seek to motorize.
Texas Paint offers a wide range of window treatment options. These options include choices in light control and privacy; endless style and color combinations; as well as hand-crafted, customized choices to meet each client's unique needs. The Certified Window Covering Experts at Texas Paint can assist you through the selection process by helping you select the right type of window treatment for your needs; presenting you with colors and samples to make the right style statement for your home; taking accurate measurements; giving you a free, no-obligation estimate; and provide professional installation.
One of the major factors in determining the price of custom motorized shades is the material selected to make them. Before arriving at a decision based upon the price variances of different materials, it is important to note the pros and cons of each type of motorized shades you desire. Eco-friendly window treatment materials like bamboo or other woven fibers may be more costly, but add value if you are seeking to green your home. To schedule a design consultation, please contact Brenda Bond at 214-399-1677 |  b.bond@texaspaint.com.