Now Open: Texas Paint Store At Grapevine Mills
Great news: the Texas Paint & Wallpaper Store at Grapevine Mills is now open and ready to serve you. The new store which is located at 2150 W Northwest Highway Ste 109 in Grapevine, Texas is open Monday through Friday 7 a.m. to 6 p.m. and Saturday 8 a.m. to 5 p.m.. A ribbon cutting with Grapevine's chamber of commerce kicked off the opening ceremony.  The brand new store is the fifth Texas Paint & Wallpaper store in the state. The other stores are in North Dallas, Downtown Dallas, Park Cities and Plano.
Great Deals
If you head over to the store at Grapevine Mills or any other Texas Paint store right now you'll receive a free pint color sample in any Benjamin Moore color. Print your coupon here: https://texaspaint.com/wp-content/uploads/2018/02/Website-coupon-1.pdf. And that's not all, on Saturdays all Texas Paint stores offer  20% off paint and paint supplies. Hurry this offer won't last. For more amazing August deals click here: https://i2.wp.com/texaspaint.com/wp-content/uploads/2018/07/AugustOffers.jpg?ssl=1.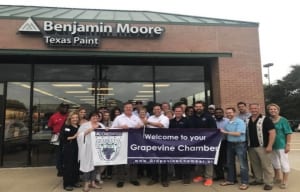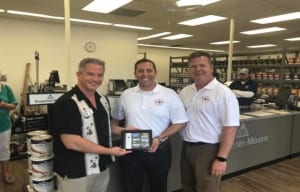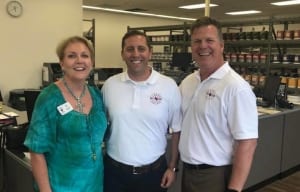 What You Can expect
At the new store you will be able to find a variety of home decor services and products to help you complete your design. Services include paint and color selection, furniture and accessories, window treatments and coverings, and wall coverings and wall paper.  The store also carries a full line of Benjamin Moore industrial & special products designed with you in mind. For more information visit: https://texaspaint.com/.
Texas Paint has been in business since 1947 and is an independent dealer of Benjamin Moore Paints and Finishes. Our trained specialists are available to assist you in selecting paint and supplies for your business.
We have 5 locations across the North Dallas, Downtown Dallas, Plano, Park Cities and Grapevine Mills for your convenience.