Order Online Today!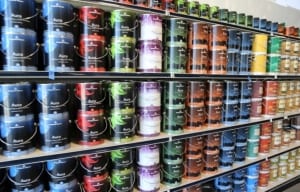 Now there is an even more convenient way to get all your favorite Texas paint products: visit our Texas Paint Shop online. Are you planing a project right now? If you know what you need, just go to our website and order your favorite products online and have them delivered straight to your door. You can get started with your job and everything you need will show up at your work site. If you prefer, you can also pick your items up at one of our locations. We know your time is valuable! No need to browse our store, everything you need is online.
What We Offer Online
Online you will find a wide variety of paints including, but not limited to interior, exterior, trim and ceiling paints. You will also find a variety of different grade paints such as: Super Premium, Premium, Aura, Regal Select, Scuff-X and Coronado. And that's not all! We also offer supplies online. No matter if you need tape, rags, brushes even fillers and primers we have it all! Our online catalog is very organized and you will be able to find what you need with a click of a button.
Check out our online store: https://shop.texaspaint.com/
Do you have questions about any of the products you ordered online? Visit us in one of our stores near you! Our experts will answer all your questions. Texas Paint has been in business since 1947 and is an independent dealer of Benjamin Moore Paints and Finishes. Our trained specialists are available to assist you in selecting paint and supplies for your home or business. We also offer FREE 2 hour Pro Delivery Service. Find out more: https://texaspaint.com/pro-delivery/
We have 8 locations across the area in North Dallas, Downtown Dallas, Plano, Park Cities, Grapevine Mills, Fort Worth, Richland Hills and Arlington for your convenience.