Wallpaper Bathroom Trends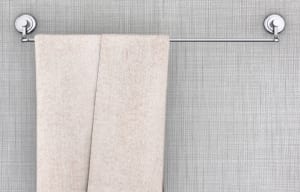 When you think of wallpaper usually your grandma's floral designs from the 70's come to mind. Wallpaper is now back with a modern take that can give your bathroom a contemporary chic.  It may seem counter intuitive, but wallcoverings in a small space – a bathroom, foyer, or even a laundry room – add a bit of fun and sophistication. Wallcoverings add vibrancy and movement to a living space, and hundreds of varieties exist. There's something for everyone: modern, traditional, romantic, or otherwise.
Designers recommend grasscloth wallpaper to add texture and warmth to a room, while geometric patterns with fresh, symmetrical shapes and simple, clean lines can introduce order and dimension into your bathroom. Floral designs from delicate blossoms to roses and tulips, as well as vintage inspired wallpapers can provide a fresh, yet modern update to your bathroom.
Wallpaper has had a renaissance in the 21st century.  Since 2011, this classic design element has consistently been on nearly every Top Interior Trends of the Year list, and this year is no exception.
What You Need To Keep In Mind
There are a few things you should keep in mind before putting wallpaper on your bathroom walls. Bathroom wallpaper can cause problems since the moisture and humidity might cause it to peel off. Install wallpaper in the areas that are outside of the shower and bath space. If you decide to wallpaper areas close to sinks and tubs, use  what's called "splashproof" wallpaper. Wallpaper and adhesives have special guidelines you should follow when wallpapering your bathroom. If you are not certain which kind of wallpaper or adhesive to use, ask the experts at Texas Paint.
Texas Paint has been in business since 1947 and is an independent dealer of Benjamin Moore Paints and Finishes. Our trained specialists are available to assist you in selecting paint and supplies for your business.
We have 4 locations: North Dallas, Downtown Dallas, Plano, and Park Cities for your convenience, to serve you. Plus, our new store in Grapevine Mills will open soon.