2 Hour Delivery – You Can Count On Us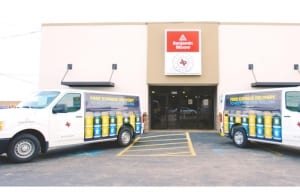 You are in the middle of a paint project and realize you forgot some supplies, ran out of paint,  or decided to change the color? No worries we got you covered with our free 2 hour delivery service! As you know, we provide quality paint, paint supplies, and equipment for residential jobs, commercial jobs and interior designers.  Our 2 hour delivery service is available to everybody including home owners, contractors and designers. No matter where you are in the greater Fort Worth – Dallas area  our 2 hour delivery service is here for you. We guarantee whatever you need from our store, from paint to paint supplies, we will get to you within two hours or less. There is no need for you to stop in the middle of your project and run to our store – we will bring it to you with our free 2 hour delivery service!
About Our New 2 Hour Delivery Service
The 2 hour delivery service is available in the Dallas-Fort Worth metro area for all orders placed between 7 a.m. and 2:30 p.m. Monday through Friday. Best of all, the delivery service is free. We will bring whatever it is you may have forgotten or run out of  to your worksite or  home. Just give us a call and we will be on our way. For more information visit: https://texaspaint.com/pro-delivery/
Texas Paint has been in business since 1947 and is an independent dealer of Benjamin Moore Paints and Finishes. Our trained specialists are available to assist you in selecting paint and supplies for your home or business.
We have 8 locations across the area in North Dallas, Downtown Dallas, Plano, Park Cities, Grapevine Mills, Fort Worth, Richland Hills and Arlington for your convenience, to serve you. Have you heard about our free 2 hour delivery service? We now offer 2 hour delivery service for paint and paint supplies. We will be at your worksite in 2 hours or less. Orders for our 2 hour delivery service must be placed between 7 a.m and 2:30 p.m. Monday through Friday