Dwell with Dignity
Dwell with Dignity designs and installs complete home interiors for families who desperately need an environment that will support health and wellness. The organization empowers families to lead their best lives and to thrive in a safe, functional, and beautiful environment. The mission of the organization is to help families escape poverty and homelessness through design; one household at a time. The goals are to bring good design to those less fortunate, inspiring them to maintain a standard of living they can be proud of and thrive in.
Thrift Studio Event (preview party)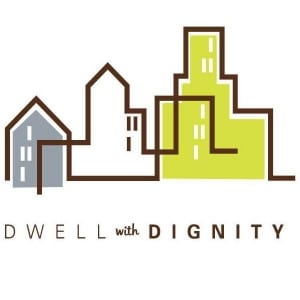 April 5, 2018
6:00-7:00pm VIP Party
Party: 7:00pm
Location: 1025 N. Stemmons Freeway, #550, Dallas. Texas 75201
The Thrift Studio Event is a unique fundraiser. Thrift Studio is a pop-up shop created to provide financial viability for Dwell with Dignity by selling donated furniture, housewares, accessories and high-end designer finds to the public. Since the concept launched in Dallas in 2011, the event has grown into a highly anticipated and can't-miss event for DwD supporters, the interior design community and the general public looking for a fabulous deal on home furnishings.
Inside, Thrift Studio shoppers find stunning vignettes created by leading designers, showrooms and retailers featuring donated high-end home decor items sold at significant discounts with 100% of sales benefitting Dwell with Dignity's mission. Thrift Studio provides one-third of the operating revenue that allows Dwell with Dignity to change lives through design by bringing good design to those who can afford it the least.
Click HERE to find out more about Dwell with Dignity.
Texas Paint
The Texas Paint team is excited to be sponsoring Dwell with Dignity. We are providing all of the Benjamin Moore Paint colors for all of the vignettes at the Thrift Studio. All of the participating designers are  selecting their perfect color to match their interior design. We look forward to a wonderful evening for a great cause and we cannot wait to see each unique interior design creation. We are proud to be part of such a great group!