It's Spring, a time to bring lightness and brightness into our homes now that the dreary Winter has left us! What do you have planned for your Spring Break? Why not paint and drape?  Our window coverings and treatments are all hand-crafted and made-to-order to our customers specifications. We have unlimited design options and color combinations. Motorized shades are also available for custom order. With our expert color matching system, our design consultants can assist you in selecting the perfect shades to match or coordinate with your window dressings for a cohesive designer look. Since our design consultations are free of charge, our experts can accurately measure your windows and give you a quote free of obligation. We feel you'll be so satisfied with our suggestions based upon your requirements, and we'll exceed your expectations with the finished results. That is why our clients recommend us highly to others and return time after time.
With our color matching system, we can match a color from any brand and mix it in our popular Benjamin Moore line.
We offer FREE in-store color consultations, however, if you prefer to do a color consultation in your home, we charge a fee of $100 which includes a $50.00 credit with purchase of materials. The Benjamin Moore product line offers superior coverage in interior and exterior paints as well as stains. They have coverage for decks and patios too. Their products outlast their competitors' product lines. Benjamin Moore is "paint like no other", so "insist on the incomparable."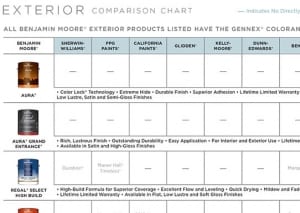 Benjamin Moore has published a comprehensive guide to their coatings with product listings and comparison charts to discern the best product to suit your needs. They distinguish between interior and exterior paints, and give the details of each coating and it's best use. You can find the chart at https://texaspaint.com/wp-content/uploads/2018/03/BenMooreCOMPETITIVECROSSOVER2017.pdf
The paint and design specialists at Texas Paint can advise you on all of your painting and design needs.
Contact Brenda Bond at
(214) 824-4574

or by email at b.bond@texaspaint.com to make an appointment for a design or color consultation.

Texas Paint is a local business since 1947 and have 4 locations across the Dallas and Plano areas to serve you:

Downtown Dallas: 4410 Ross Avenue (214) 824-4574
North Dallas: 12835 Preston Rd, Suite 214 (972) 239-0177
Park Cities/Dallas: 5529 W. Lovers Lane (214) 350-5529
Plano: 2432 Preston Rd, #320 (469) 331-2534

You're in good hands with us at the Texas Paint… we'll steer you right!