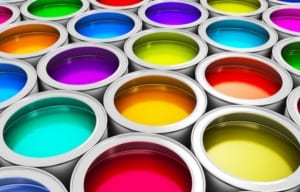 When painting a room, you want to make sure you pick the perfect paint color. Since painting can be a pretty big project, you don't want to be disappointed in your color choice since you will most likely live with the paint color for a while. There are a few things you should keep in mind when picking your perfect paint color.
What You Should Do Before Choosing Your Paint Color
Take some time to analyze the room you are intending to paint. Take a closer look at the color of your furniture, your hardwood or tiled floors and your area rugs. The color of these items will help you determine what paint color you will choose for the room. Also, consider what the room is used for and what mood you want to create when painting the room. Obviously, you will choose a different paint color for your bedroom than you would use in your living room or your den. Maybe also talk to your family members or roommates. Since you will be living in the space together, it is a good idea to get some input from everybody.
Take a closer look at some magazine and online articles to find out which colors are trending right now. Maybe you will like some of those choices. Benjamin Moore has a whole list of most popular paint colors. If you need some inspirations, visit: https://www.benjaminmoore.com/en-us/color-overview/color-palettes/most-popular-colors.
Once you have decided on a color, make sure to get paint chips and test paint samples. Sometimes paint chips can be a little deceiving. Use the test paint sample on a part of your wall to see what the color looks like in your room. Light can impact the outcome of a paint job. Make sure you look at your test wall during different times of the day to make sure you still like the paint color.
Now, it is time to decide your paint sheen. Generally speaking, experts recommend using a high-gloss or semi-gloss finish for kitchens, a satin finish for family rooms, an egg-shell finish for dining rooms and a flat or matte finish for bedrooms. Again, what finish you choose for your paint color depends on the mood you want to create and on how high the traffic in your room will be.
For more information visit: https://www.benjaminmoore.com/en-us/interior-exterior-paints-stains/how-to-advice/interiors/choosing-paint-color
Do you need help finding the perfect paint color? Our experts can help. Texas Paint has been in business since 1947 and is an independent dealer of Benjamin Moore Paints and Finishes. Our trained specialists are available to assist you in selecting paint and supplies for your home or business. We also offer FREE 2 hour Pro Delivery Service. Find out more: https://texaspaint.com/pro-delivery/
We have 9 locations across the area in North Dallas, Downtown Dallas, Plano, Park Cities, Grapevine Mills, Fort Worth, Richland Hills, Arlington and Frisco for your convenience.