Make A Small Space Appear Bigger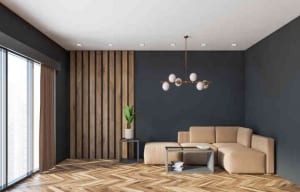 Painting small spaces can be tricky. Whether you want to change the look of your studio apartment, your hallway or even a small space in your home that may have been converted into a temporary office, color can make all the difference. There are a few tricks you should know about if you want to make a small space appear a little bigger.
What You Need To Know
No matter what color you decide to paint your small space, consider choosing a lighter color above your eye level. If you paint your ceiling with a lighter color or a slight variation of your wall color, your space will appear larger and taller.
Does your small space have wall trim and moldings? Try painting those in lighter colors than your walls.
Accent walls are not only for large rooms. In a small space, an accent wall painted in a bold color, will add architectural interest.  Blues like Clearest Ocean Blue 2064-40, Blue Danube 2062-30 or Cool Aqua 2056-40, can bring a bit of sky into your home.
Is your hallway narrow and dim? Consider painting it a lighter color to open the space up a bit. The following colors may add a soft glow to your hallway while reflecting natural light: Subtle AF-310, Antique White OC-83 or Soft Satin 2164-60.
If you would like to add some bolder colors to your small space, use those colors on built in shelving. Hunter Green 2041-10, Vintage Wine 2116-20 and Amherst Gray HC-167, paint colors that are perfect for small spaces–especially if you want a touch of drama in your color palette.
For more information visit: https://www.benjaminmoore.com/en-us/project-ideas-inspiration/interiors/small-rooms-spaces-paint-colors
Do you need help finding the right color to make your space appear bigger? Our experts can help. Texas Paint has been in business since 1947 and is an independent dealer of Benjamin Moore Paints and Finishes. Our trained specialists are available to assist you in selecting paint and supplies for your home or business. We also offer FREE 2 hour Pro Delivery Service. Find out more: https://texaspaint.com/pro-delivery/
We have 9 locations across the area in North Dallas, Downtown Dallas, Plano, Park Cities, Grapevine Mills, Fort Worth, Richland Hills, Arlington and Frisco for your convenience.