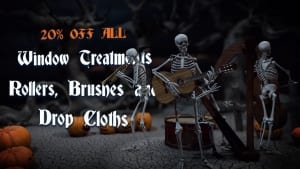 Don't miss the Texas Paint Spooktacular Sale…..you will get 20% off everything in all of our stores right now. You have only 4 days to get those deals, so head over to a Texas Paint store near you.
For more incredible offers visit: https://texaspaint.com/offers/
What You Need To Know
Save on paint, paint supplies, window treatments and much more. Sale starts Wednesday (9/25/2019) and runs through Saturday (9/28/2019).
At Texas Paint, we offer a variety of home decor services and products to help you complete your design. Services include paint and color selection, furniture and accessories, window treatments and coverings, and wall coverings and wall paper. Through Saturday (09/21) everything is 20% off!
Texas Paint has been in business since 1947 and is an independent dealer of Benjamin Moore Paints and Finishes. Our trained specialists are available to assist you in selecting paint and supplies for your home or business.
We have 8 locations across the area in North Dallas, Downtown Dallas, Plano, Park Cities, Grapevine Mills, Fort Worth, Richland Hills and Arlington for your convenience.